2022 TSL Designated Charities
CYC Saturday Hoops and
Price Hill Safety CAT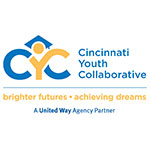 WHAT THEY DO AT SATURDAY HOOPS
Each Saturday morning throughout the year, Saturday Hoops strives to help improve their kids' outlook on life and themselves by inspiring them to try new things and make new friends. Here are the things their volunteers do to achieve these goals:
THEY BUILD POSITIVITY
They establish a positive environment, starting with a morning devotion and ending with an encouraging message and lunch. Living out their themes of Cheerful Givers, Hard Workers, Overcomers, and Good Stewards is ingrained in everything they do. They count on community partners to make this happen.
THEY CONNECT WITH EACH KID
Their goal is to build self-esteem in each child through interactions with volunteers so that they grow to be confident and feel valued. Throughout the morning, there is time built in to encourage conversations between kids and volunteers.
THEY HAVE FUN TOGETHER
They do a variety of creative, instructional, and physical activities meant to stimulate, engage, model cooperation, and most of all, have fun! Here's an example of their schedule:
Every Saturday, 9:00am-1:00pm
9:00-9:30 am – Open basketball gym
9:45 am – Volunteer orientation
10:00 am – Welcome and speaker
10:15-11:45 am – Activities
11:45 am – Speaker
12:00 pm – Lunch
1:00 pm – Program ends
GET INVOLVED
They're always looking for more kids, volunteers, and community partners to join Saturday Hoops.
Please visit their website at https://www.saturdayhoops.org/
CAT is an acronym for Community Action Team. They are a community led volunteer organization. They work in conjunction with Price Hill residents, businesses, other organizations, and law enforcement to improve the safety, livability, and quality of life for all those living and working in Price Hill.
 The Facebook link: https://www.facebook.com/PHSafetyCAT/
Safety CAT is led by Patty Hogan. More information on Patty Hogan and her role in the community. West Side Super-Volunteer Patti Hogan: Safety and cleanliness "critical" to neighborhood success (soapboxmedia.com)
Internal Email address: phsafetycat@gmail.com
Some of their programs:
Summer Youth Work Program -- They recruit young boys and girls to mow overgrown yards of abandoned buildings or vacant lots . They also clean up litter and debris. The program spans ten Saturdays from June through mid-August. Each Saturday they work three hours followed by lunch. They mentor and teach these young folks. They promote character, the value of education and they attempt to prepare them for the work force by teaching them the good work habits, the value of doing quality work and having pride in neighbor. The program keeps these kids off the streets and at the same time gives back to the neighborhood. In exchange for their hard work the youth workers are given and allowance of $15 per hour. This summer will be the program's tenth year.
Bi-weekly safety walks and litter pickup -- This program focuses on the more problematic areas of Price Hill. They work with police to identify the problem areas. The team then spends time in these areas. They are extra sets of eyes and ears for law enforcement and they clean up litter and debris and report more severe blight to the City.
Stop the Violence events -- this consists of a variety of events – three-on-three basketball tournaments, street parties, motorcycle rallies. The Safety CAT works in partnership with other organization and police on these events and they occur across the city in areas plagued by violence.
Neighborhood litter cleanup -- these are larger cleanups involving the entire community and span East and West Price Hill. Volunteers are recruited from neighborhood schools, churches, organizations , business, and residents. These cleanups usually involve 50 – 75 volunteers with the city providing resources to pick up the collected litter. The police are active participants in these clean-up efforts. There are usually 2 Spring and 2 Fall cleanups.
Community Bankers Association of Ohio
Did you know that through an alliance with CBAO, TSL members may attend CBAO seminars at their member cost, saving 25% of the cost for non-members? Just one more benefit that you receive from your membership in the TSL. Please visit their website to view their educational calendar at www.cbao.com.